INLAND WATERWAYS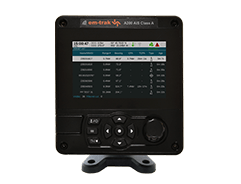 THE BEST AIS TRANSCEIVER
FOR YOU
Performance
Reliability
Connectivity
Installation
WHY WE RECOMMEND THE A200 FOR INLAND WATERWAYS
The A200 Class A AIS transceiver, with dual SOLAS and Inland Waterway certification, is the perfect solution for any commercial or leisure vessel operating on inland waterways.
The A200 offers advanced performance and total reliability in a small and lightweight unit. Water and weatherproof (IPx6 & IPx7), it comes with an integrated colour display and connects seamlessly to any nav display or application to so you can benefit from the growing range of information available through AIS on inland waterways.
The combination of proven performance, long term reliability and competitive price has made the A200 one of the world's most popular AIS transceivers for inland waterway vessels around the globe.
YOUR 4 STEP INSTALLATION GUIDE
Step 1
Step 2
Step 3
Step 4