RIB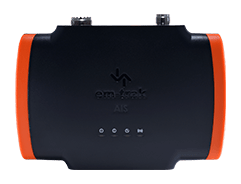 THE BEST AIS TRANSCEIVER
FOR YOU
Performance
Reliability
Connectivity
Installation
WHY WE RECOMMEND THE B952 FOR RIBS
AIS is a great for enhancing your safety and fun, and the B952 AIS Class B transceiver is the perfect AIS for a RIB so you can see and be seen at all times.  With its powerful priority AIS transmission (5W SOTDMA)  your range is always maximised even in the busiest of areas
The B952 is easily installed within the centre console without needing screws using the unique easy-fit bracket. The high-performance internal GPS antenna means that an external one is not required – it will GPS lock through the centre console!!
The B952 will seamlessly connect to any navigation display you may have and will dual WiFi and Bluetooth connectivity you can connect up to 9 cell phones and tablets simultaneously.  You will enjoy the very best quality AIS with plug and play connectivity.
This is all achieved within a single transceiver that is ruggedized and impervious to the effects of damp, temperature, water, shock and vibration providing many years of reliable operation.
YOUR 4 STEP INSTALLATION GUIDE
Step 1
Step 2
Step 3
Step 4