SOLAS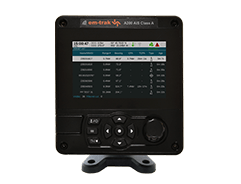 THE BEST AIS TRANSCEIVER
FOR YOU
Performance
Reliability
Connectivity
Installation
WHY WE RECOMMEND THE A200 FOR SOLAS
The A200 Class A is the first choice AIS transceiver for SOLAS vessels. It is fully certified for global compliance with all national and international (IMO) commercial vessel AIS regulations and offers advanced performance and proven reliability in even the most extreme conditions.
The A200 is easy to install and will seamlessly connect to your ECDIS and other bridge systems and operate for many years maintenance free.
With its integrated colour display the A200 can play a useful supporting role tracking and alerting collision and CPA when vessels are in busy port areas.
The proven combination of performance, long term reliability and competitive price make the A200 the best value AIS Class A in the market by far.
YOUR 4 STEP INSTALLATION GUIDE
Step 1
Step 2
Step 3
Step 4